We Fix Ugly Pools has all of your hot tub needs in one place.
Sit down and relax in your very own hot tub or spa from We Fix Ugly Pools. We can create a custom spa with all the jets and seating you want, or we can set up an existing hot tub to fit your needs.
CUSTOM SPA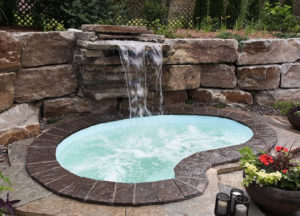 There are a few types of custom spas that we can create. Fiberglass Spas are some of the most used. Fiberglass spas are easy to visualize in your backyard or pool because they have shapes and sizes that you can incorporate into a drawing or blueprint quite easily. They are also easy to install if you decide to go with the DIY route, most of the time it just takes a little work to dig a hole and set up properly. Remember, If you don't feel comfortable with any point in the installation there are professionals that can help.
Concrete spas are another option when looking into design options for your spa. a concrete spa allows you to use complex shapes to come up with just about any design that you have in mind. A concrete spa also adds the ability to have as many features as you want, you want 50 jets and a foot massager? Give us a call and we will see what we can do for you.
PRE-MADE SPAS
We can also work with pre-made hot tubs and spas for an even quicker experience. if you want to install a premade spa into a deck or concrete we can do that for you. Give us a call today to learn about all your options.