REMODELING & RESTORATION
FORTWORTH, TX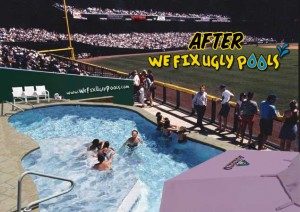 There are many good reasons for updating your backyard pool. Your home and pool represent a sizable investment, and upgrading the pool adds value to your home as well as being an excellent source of entertainment for your family and friends. Giving your pool a 'makeover' could turn out to be one of the smartest financial moves you could make.
Maybe you've purchased an older home, with an older pool to go along, and need some help to make it safe and usable. Or perhaps you installed the pool yourself years ago and 'let it go' once the kids went off to college. Maybe it's time to get it ready for a whole new generation – grandchildren! A great backyard pool helps keep the kids closer to home as well.
Restoring or remodeling your pool could also help save on energy bills, swapping out old and outdated equipment and technology for new. Often, the investment in a new system will more than pay for itself in lower energy bills.
Our creative team can design a smart pool restoration or remodel just for you, and you can see it before it happens.
We are well known for making even the ugliest pool beautiful, let us get to work on yours! We Fix Ugly Pools® is the #1 choice in the Greater Fortworth, Texas, area when considering restoring or remodeling.
POOL RESTORATION
Restoring an older pool seeks to bring a classic design back to a like-new condition. It usually involves cleaning and resurfacing, matching and replacing loose or missing tiles, repairing or replacing worn out pumping and filtration machinery, or maybe installing a new vinyl liner.
Usually, however, the design elements will stay the same. Restoration is often the quickest and most economical way to get enjoyment out of your ugly pool again.
POOL REMODELING
There are plenty of good reasons to remodel an existing pool.  Most people choose to remodel because the pool is old and in need of significant repairs.  Other people opt to renovate their pools to fix smaller problems, install new features and update the style.  Sometimes, people choose to remodel their pool to save on maintenance costs; new energy-saving technologies are coming out every year that can help pool owners save money. Whatever the reason is for remodeling your pool, make sure you pick a trusted local Fortworth pool contractor to do the job. Pool remodeling can be even more complicated than installing a new pool because the original pool often needs to be redesigned to be brought up to current city codes.
Remodeling is also the perfect time to consider adding new features to your swimming pool.  The addition of a swim-in cave and combination waterfall slide, for example, are best done at the same time to keep the pool's downtime to a minimum.  We are happy to meet with you to discuss all of the options available, always keeping your budget and schedule in mind.
We Fix Ugly Pools® has made a reputation out of turning ugly pools into centerpieces of your backyard. When you need to bring the beauty back to your ugly pool, you need the team at We Fix Ugly Pools®.